Pocket Particle AQI 2.0 Sensor
The Pocket Particle AQI 2.0 Sensor allows our customers to measure air quality levels at their homes, businesses, client facilities and public locations. The state of the art sensor is small and light weight and provides information about ambient air quality exposure levels. The sensor measures both PM2.5 and PM10. Our second generation sensor communicates with your device using Bluetooth® for a convenient wireless operation. We have also added VOC and eCO2 sensing for more complete air quality survey.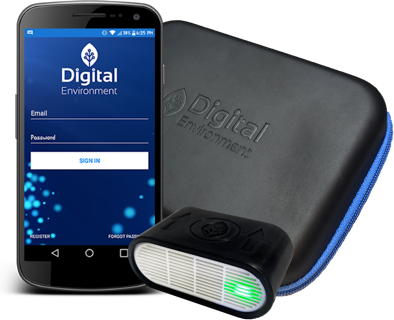 Features Include:
Mobile Air Quality Monitoring for Particulate Matter - PM2.5 and PM10 (detects mold, silica dust, smog, etc). Volatile Organic Compounds - VOC (such as exhaust fumes, perfumes, alcohol vapors, etc). Carbon Dioxide - CO2 (discover possible CO2 buildup or an improperly balanced HVAC system).
Works with Android and iOS devices via bluetooth communication
Measure air quality indoors or outdoors including airborne mold spores
Ideal for respiratory patients, outdoor enthusiasts, or industrial hygiene
Analyze your data with our web application, track down the source of air contamination
Mobile Air + Cloud Management
Our SmartENV for Pocket Particle application gives customers the ability to understand, monitor, and share air quality information. Users can record unique surveys across any property, location, or use the sensors for personal health monitoring and alarming. The surveys are stored in our cloud platform and available anywhere for analysis, reporting, or download. Users can collect air quality data, as well as GPS, photos, and notes for each survey. Customers can view and download all of their data from our Solutions Web App.
For more information about air quality visit this helpful page.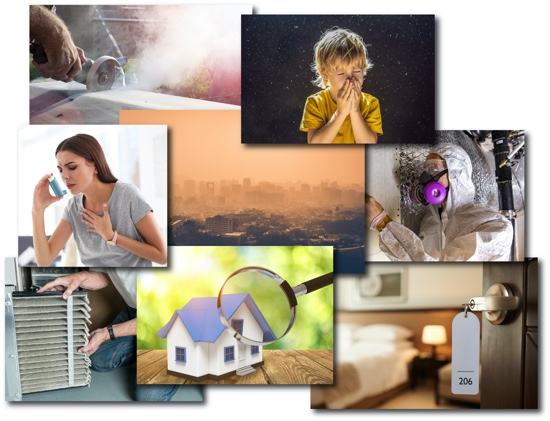 Industry Applications Include:
Home Inspections
Indoor Air Quality Monitoring
HVAC and Duct Cleaning
Personal Indoor Air Quality Monitoring
Construction Nuisances Dust Monitoring
Environmental Assessment
Property and Hotel Management

Medical Remote Patient Monitoring